Join our CEO (Dr. Parviz Afshaar) as he walks you through our hospital
---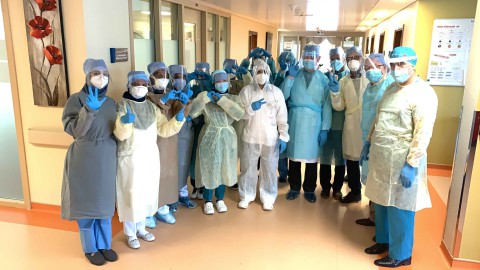 Iranian Hospital- Dubai is very pleased to have been a part of the first life of defense against the coronavirus outbreak in the UAE.
The hospital's capacity and management preparedness is driven by its strong leadership and compliance with local and national guidelines and regulations. Infection prevention and control polices and guidelines have been fundamental in all our endeavours and continues to be our prime defence in minimizing the transmission of virus in our organisation. Furthermore, we are wholeheartedly grateful to our frontline staff for their devotion and unrelenting efforts in ensuring the safety of our patients. Join our CEO (Dr Parviz Afshaar) as he walks you through our hospital and explains our preparedness strategies.
بسیار خوشحالیم که بیمارستان ایرانی- دبی جزوی از گروه دفاع در برابر شیوع ویروس کرونا در امارات متحده عربی بوده است.ظرفیت و آمادگی مدیریت بیمارستان توسط مدیریتی قوی و انطباق با دستورالعمل ها و مقررات محلی و ملی هدایت می شود.دستورالعمل های پیشگیری و کنترل عفونت در تمام تلاش های ما اساسی بوده و همچنان به عنوان دفاع اصلی ما در به حداقل رساندن انتقال ویروس به کار رفته.علاوه بر این ، ما از صمیم قلب از کارکنان خط مقدم خود بخاطر فداکاری و تلاش های بی امان در تأمین امنیت بیماران خود ، سپاسگزار هستیم.در این ویدیو همراه با مدیر بیمارستان (دکتر پرویز افشار) شوید و او راهکارهای آمادگی بیمارستان ما را برای شما توضیح می دهد.