Dr. Seyedbagher Tabatabaei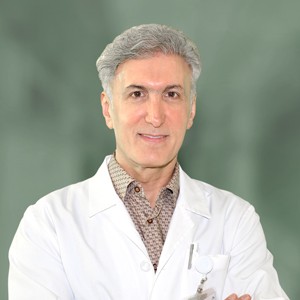 Specialist Interventional Cardiology
English
Persian
German
Arabic
Dr. Seyedbagher Tabatabaei can help you with ...
Heart Attack
Heart Diseases
Hypertension
Chest Pain
Dyslipidemia
Exercise Stress test
Echocardiography
ECG Holter
Ambulatory BP Monitoring
Ischemic Heart Disease
Valvular Heart Disease
Coronary Angiography
Heart Catheterization
Emergent Angiography in Heart Attack
Coronary Angioplasty
Emergent Angioplasty
Valvuloplasty
Peripheral angiography
Peripheral Angioplasty
Diagnostic Pericardial Tap
Temporary Pacemaker
Permanent Pacemaker
Biography
After Diploma graduation in Frankfurt/Germany Dr Tabatabaei graduated from the school of medicine of Johann-Wolfgang-Goethe University in Frankfurt/Germany with PhD dissertation in the field of cardiovascular medicine (myocardial investigation of the patients with CHF before and after heart transplant patients). He has also co-authored several publications in renowned papers. After successful graduation he trained in internal medicine in University Hospital of Bonn/Germany including all the fields' specially cardiovascular and intensive medicine. After obtaining his board certification he trained in cardiology and interventional cardiology at University Hospital in Frankfurt/Germany over 3yrs with board certification simultaneously achieving board certification in urgent medicine consultant.
Dr Tabatabaei has worked as a consultant senior attending physician and associate professor of cardiovascular medicine in Germany and Switzerland for nearly two decades. In 2013 he joined Dubai health Care System and has been an interventional cardiologist/cardiologist/internist at Iranian Hospital Dubai till date.
Dr Tabatabaei has been involved in different international multicenter registries and active collaborations with prestigious and highly facilitated centers in UAE including Cleveland Clinic Abu Dhabi, Al Qassimi Hospital Sharjah, Rashid and Dubai Hospital as well as other well-known private centers and clinics to share the experiences and manage the very rare and challenging cases for 24/7.

Education
1988 - 1995
School Of Medicine, Frankfurt
Medicine
2003 - 2007
School Of Medicine, Bonn
Internal Medicinecardiology
2005 - 2007
University Of Frankfurt, Frankfurt
Interventional Cardiology