Dr. Khalil Zarrabi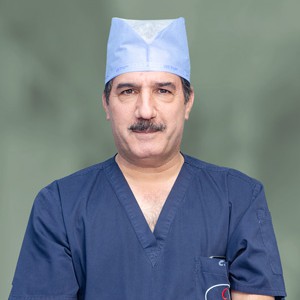 Cardiovascular Surgeon
Dr. Khalil Zarrabi can help you with ...
Cardiovascular Surgery
Coronary Surgery
Heart Valve Surgery
Aortic Aneurysem
Biography

Publications:
1. Izadpanah A, Manafee A, Omrani GH, Javid R, Zarrabi K. First pancreas transplantation in Iran. Beheshti J Res Med 1995; 19: 1-2.
2. Mohammadi M, Kiavar M, Zarrabi K. Syphilitic aortic aneurysm, A Case Report. Iranian Journal of medical Sciences 2000;7(22):305-309.
3. Zarrabi K, Yarmohammadi H, Ostovan MA. Retrograde pulmonary embolectomy in-massive pulmonary embolism. Eur J Cardiothorac Surg. 2005 Dec;28(6):897-9.
4. Zarrabi K, Mollazadeh R, Ostovan MA, Abdi Ardekani AR. Retrograde pulmonary embolectomy in 11 patients. Ann Thorac Surg. 2008 Apr;85(4):1471-2.
5. Moaref AR, Mahmoody Y, Zarrabi K. Perivalvular abscess of tricuspid valve: a rare complication of infective endocarditis. J Teh Univ Heart Ctr 2010; 2: 98- 100.
6. Moaref AR, Mahmoody Y, Zarrabie K. Perivalvular abscess of tricuspid valve: a rare complication of infective endocarditis. J Tehran Heart Cent. 2010 Spring;5(2):98-100.
7. Zarrabi K, Zolghadrasli A, Ostovan MA, Azimifar A. Short-term results of retrograde pulmonary embolectomy in massive and submassive pulmonary embolism: a single-center study of 30 patients. Eur J Cardiothorac Surg. 2011 Oct;40(4):890-3.
8. Zarrabi K, Ghaffarpasand F, Zamiri N, Ostovan MA. Subclavian flap coaorctoplasty and preservation of left upper extremity circulation using an interposition graft. J Card Surg. 2012 May;27(3):381-3.
9. Zarrabi K, Johari HG, Azimifar A. What do you think about the best time for surgical intervention in patients with massive pulmonary embolism? Am J Emerg Med. 2012 Jun;30(5):826.
10. Mahmood Zamirian, Ali Reza Moaref, H. Alavi, Khalil Zarrabi. Right Ventricular Thrombus: A Rare Complication of Ovarian Hyperstimulation Syndrome. International Cardivascular Research Journal. 2012, Volume 06-Issue 4: 131-132.
11. Zarrabi K, Zolghadrasli A, Ostovan MA, Azimifar A, Malekmakan L. Residual pulmonary hypertension after retrograde pulmonary embolectomy: long term follow-up of 30 patients with massive and submassive pulmonary embolism. Interact Cardiovasc Thorac Surg. 2013 May 14. [Epub ahead of print].

Presentations:
- Wrapping of valved conduit by patient's pericardium in aortic root replacement to reduce post op bleeding; 7th annual meeting of Iranian Heart Association, 1989, Tehran, Iran
- Treatment of acute massive pulmonary embolism, 2nd annual symposium on cardiovascular updates, April 2006, Shiraz, Iran
- Temporary mediastinal draining tube ollusion to control post op bleeding in selected cases of cardiac surgery, 3rd annual symposium of cardiovascular updates, April 23-25, 2008, FHF, Kowsar Hospital, Shiraz, Iran
- Updates in Surgical Therapy in acute massive pulmonary thromboembolism introducing a novel complementary technique, March 2009, Prince George Hospital Center, Washington D.C. USA.
- Subclavian Flap Coarctoplasty and preservation of left upperlimb blood flow a novel surgical technique, 4th MECC, 23-25 Feb 2011, Kish Island, Iran - Surgical treatment of chronic pulmonary thrombo-embolism: a panel discussion and lecture presentation; 4th international congress in cardiovascular updates, April 2011, Shiraz, Iran
- How to improve myocardial protection in coronary artery bypass grafting, Annual congress of Iranian Heart Association, May 2011, Tehran, Iran
- Retrograde pulmonary embolism in treatment of acute massive pulmonary thrombo-embolism, 6th Middle East Cardiovascular Congress, 24-27 Jan 2012 - Modifications in surgical technique for better heart protection in CABC; 5th symposium in cardiovascular updates, May 2012, Shiraz, Iran
- How to eliminate risk of limb ischemia in subclavian flap coarctoplasty, 5th Razavi International Cardiovascular Surgery Congress, May 30-June 1 2012, Mashhad, Iran -How to implant a larger prosthetic valve in aortic position,with lesser rate of paravalvar leak & lower chance of neural block,7th international Kowsar Hospital congress,May 2016,Shiraz IRAN
-Surgical management of post-MI ventricular septal rupture,1st international symposium of acute coronary syndrome(ACS),June 2016,Tabriz-IRAN

Research Projects:
− Solidification of hydatid cyst to easy its removal from Solid Organ (SUMS 1995)
− Augmentation of leaflets approximation in aortic valve in sufficiency in pediatric age groups (Rajaee Heart Center, 1999)
− Bridging of coronary artery lesions as a novel technique (SUMS 2001) − Effect of CBP on Vascular endothelial function in patient undergoing cardiac surgery (SUMS 2012)

Publication (Book):
− Queries in the background of Shiraz Medical School (Faramarz Ismaeil-Beigi Appreciation Letter). Mohammad Hossein Azizi, Khalil Zarrabi, Ali Ronaghi. 1st ed., Mirmah Publication, 2012.
Education
1994 - 1997
Shahid Rajaee Heart Center, Tehran
Board Of Subspecialty In Cardiovascular Surgery
1986 - 1990
Shiraz University Of Medical Sciences, Shiraz
Board Of Specialty In General Surgery
1977 - 1986
Shiraz University Of Medical Sciences, Shiraz
General Practitioner
Experience
2000 -
Shiraz University Of Medical Sciences, Shiraz
Associate Professor Of Cardiovascular Surgery
1997 - 1999
Shahid Rajaee Heart Center, Tehran
Assistant Professor In Cardiac Surgery