Students of "Sharjah Iranian School" visited Iranian Hospital-Dubai
---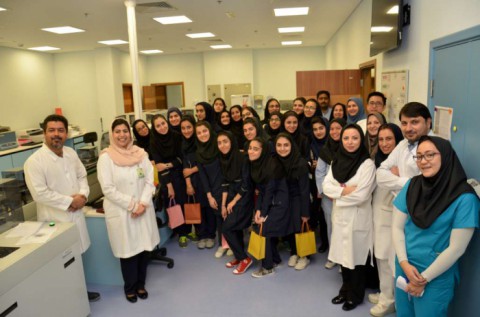 A group of students accompanied with their teachers from Sharjah Iranian School, visited Iranian Hospital-Dubai on1st of March 2016.
At first professor Firouz Darroudi (a professor of radiation genetics and chemical mutagenesis) in a simplified manner delivered a lecture for them at in the hospital's Convention Center about the potential, visions and working platforms of newly established" Center for Human Safety & Health, and Diagnostic Genome Analysis" at Iranian Hospital in Dubai. This informative seminar was received extremely well by students and their supervisors.
Afterwards, students visited different departments of the hospital from Radiology up to Laboratories. During this tour, doctors and nurses introduced the working programs at each department and students became familiar with the different medical services at the Iranian Hospital.
This experience helps them to push their career in medical field in the near future.