Regional Director for IFRC Asia Pacific Zone Met Prof Ziaee
---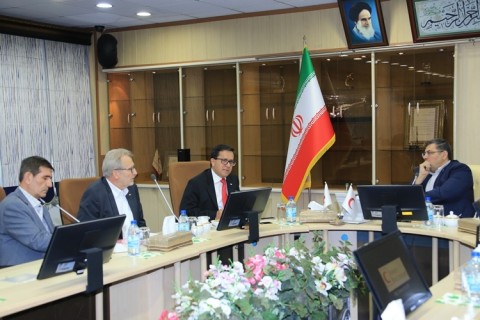 On August 8th 2017, a delegation from IFRC Asia Pacific Zone including Mr. Xavier Castellanos, Regional Director for IFRC Asia Pacific Zone, accompanied with Mr. Martin Faller, Deputy Regional Director for Asia Pacific Zone, met Prof. Seyed Amir Mohsen Ziaee, President of Iranian Red Crescent Society (IRCS). The meeting aimed at exploring the ways to develop mutual cooperation in Asia Pacific Zone and taking advantage of the IRCS capabilities for capacity buildings of Asia Pacific National Societies.
In the course of meeting, describing the capabilities of IRCS in rendering humanitarian services domestically and overseas, Prof. Ziaee, pointed out to the public education activities with the aim of public preparedness to disasters and the medical services offered in fourteen countries. Referring to the IRCS activities and services in MENA Zone, Prof. Ziaee expressed the interest of Iranian RC for cooperation with IFRC in Asia Pacific Zone.
Mr Castellanos pointed out to the plenty of opportunities for mutual cooperation, reminded that to develop relationships, both organizations can cooperate on areas of First Aid, Research and Rescue, Public Education, experience and knowledge sharing in fields of Health, Treatment and Rehabilitation. Mr Castellanos added that both organizations also can cooperate on strengthening and capacity building of Asia Pacific National Societies. He pointed out to the valuable experience of IRCS and expressed the willingness to being shared with IFRC and emphasized that IFRC aims to expand mutual cooperation with IRCS considering IRCS's strength and capacities.
In the meeting, Mr Faller reminding the signed MoU between IRCS and IFRC in 2013 on Logistics and Relief and Rescue trainings, added that in addition to expansion of previous cooperation, the existing relationship and cooperation can be strengthened through implementing international projects, experience sharing and different trainings.