Iranian Hospital in Dubai performed a fire drill on November 9th, 2015
---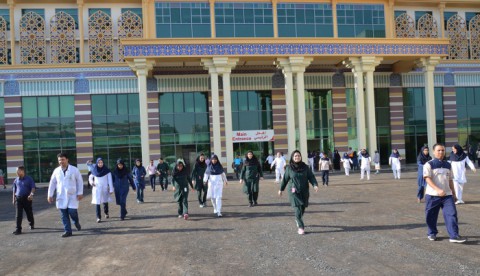 Iranian Hospital in Dubai successfully performed a fire drill on November 9th, 2015.
The drill started at 8.30 Am when the alarm went off in the building, smoke detectors located a simulated fire in the hospital.
Around 500 people were evacuated, including hospital staff and doctors, technicians, workers and patients. Building in charge, put a sign in each door in every floor that the room has been checked and empty. Upon receiving a report, police, ambulance, Local fire department and other rescue team arrived at the scene and participated in this event.
Firefighters then entered the building to evacuate it and rescue anyone trapped or injured.
The objective of this fire drill was to give the public first-hand experience in how to deal with and the precautions to be taken in case of a fire.
Iranian Hospital-Dubai conducts yearly fire drill so everyone in the building knows how to get outside quickly and quietly.