Cervical Cancer Awareness
---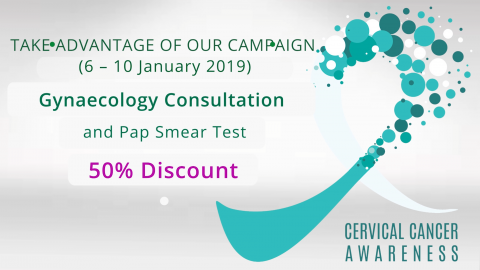 Cervical Cancer Awareness
Take advantage of our Campaign
( 6 - 10 January 2019 )
Gynaecology Consultation
and Pap Smear Test
50% Discount
For More information : +971 4 344 0250
What is a Pap smear?
A Pap smear, also called a Pap test, is a procedure to test for cervical cancer in women. A Pap smear involves collecting cells from your cervix — the lower, narrow end of your uterus that's at the top of your vagina.
 Why it's done?
A Pap smear is used to screen for cervical cancer. The Pap smear is usually done in conjunction with a pelvic exam. In women older than age 30, the Pap test may be combined with a test for human papillomavirus (HPV) — a common sexually transmitted infection that can cause cervical cancer.
Who should have a Pap smear?
You and your doctor can decide when it's time for you to begin Pap testing and how often you should have the test. In general, doctors recommend beginning Pap testing at age 21.
How often should a Pap smear be repeated?
Doctors generally recommend repeating Pap testing every three years for women ages 21 to 65. Women age 30 and older can consider Pap testing every five years if the procedure is combined with testing for HPV.