Dr. Narges Pourheidari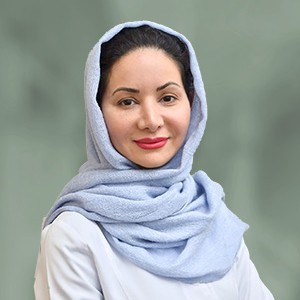 Dermatologist
Dr. Narges Pourheidari can help you with ...
Skin diseases
Hair diseases
Nails diseases
Biography
Dr. Narges Pourheidari -Specialist in Dermatology and Aesthetic Medicine. She has over 12 years experiences in the field of Dermatology.
She is an Aesthetic Professionalist , Diploma Degree from Nice Sophia Antipolis University and LASER Specialist.

CLINICAL EXPERTISE AND SCOPE OF SERVICE:
Examine patients and recommend requisite diagnostic tests.
Perform injections; punch and shave biopsies; curettage; electrocautery; cryosurgery; and excise skin lesions.
Diagnose and treat various types of skin cancers.
Discuss range of skin conditions with patient of all nationalities.
Treat skin disorders and administer rejuvenative skin treatments.
Skin rejuvenation procedures including filler and Botox injections, laser resurfacing, and PRP procedures.
Latest and best techniques in hair-removal laser technology.
Scar mitigation using laser technology or other procedures.
Intralesional treatment – Alopecia and Keloid with Steroid.
Hyperpigmentation treatment.
Hyperhidrosis treatment.
Dark circle treatment.
Education
2004 - 2008
Iran University Of Medical Sciences, Tehran
Dermatology
1997 - 2004
Shahid Beheshti University, Tehran
Medicine
Experience
2009 - 2012
Jahad-E Daneshgahi,
Dermatologist