Dr. Farid Ghasemzadeh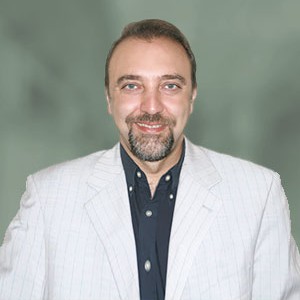 Specialist in Orthopedics
English
Persian
Arabic
Urdu
Spanish
Dr. Farid Ghasemzadeh can help you with ...
Knee arthroscopy
Knee replacement
Shoulder arthroscopy
Sport Surgery
Regenerative Medicine
Biography
- Board Certified Orthopedic Surgeon
- Fellowship in Osteosynthesis
- Diploma of American Board of Regenerative Medicine

My experience after graduation has been mostly in two fields, considering trauma surgeries and elective operative procedures. For example during my first 3 years of my practice in southern Iran, I faced with different cases of Road traffic accidents.
I got experience in long bones and pelvis fracture fixation with different methods including, plating, nailing, external fixation and many soft tissue operations.
During my last 15 years' experience in Iranian Hospital in Dubai, I had the opportunity to face elective orthopedic cases much more than before, although performing surgery on trauma cases has always been a part of my job.
I have done more than 1000 primary and revision knee and hip replacements and different forms of osteotomies and limb salvage procedures; also, I have done more than 2000 of arthroscopic knee operations including ACL reconstruction using BTB or hamstrings and meniscal repair and cartilage restorative procedures.
I have experience in Arthroscopic shoulder surgery in the past 5 years and this has turned out to my regular practice.
Recently I have added regenerative orthopedic treatment to my practice and this novel type of treatment with stem cell and PRP has helped my sports surgery cases.
The good results of the bilateral simultaneous total knee arthroplasty has made a good international reputation for the hospital and is involving me more and more in different forms of knee arthroplasty and revisions.
The number of my bilateral knee replacement cases recently passed 800.

Education
1987 - 1994
Tehran University Of Medical Sciences,
Doctor Of Medicine
1997 - 2001
Tehran University Of Medical Sciences,
National Board In Orthopedic Surgery
2006 -
Alberta/canada,
Courtesy Fellow Of Royal College Of Surgeons
2006 -
Medical Center In Calgary/canada.,
Clinical Fellow Ship In Osteosynthesis From Foothills Hospital
Experience
2001 - 2004
Bushehr University Of Medical Sciences In Iran,
Assistant Professor In Orthopedic Surgery
2004 -
Iranian Hospital Dubai,
Practicing As An Orthopedic Surgeon As Head Of Department Of Orthopedic Surgery